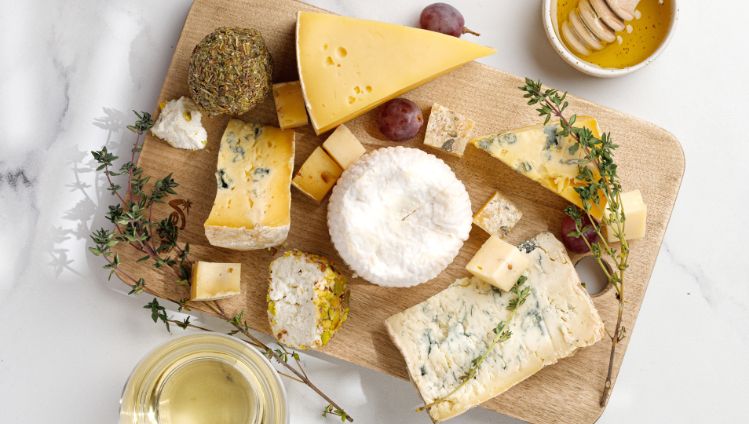 Which Cheeses Are Best For a Cheese Tray?
Need help creating the perfect cheese platter? Here's how to make the right selections for a cheese board that everyone will love.   
There's nothing better than a cheese platter for get-togethers with friends: it's easy to prepare and everyone loves it! However, selecting the right cheeses can be a challenge! Here's some tips on how to choose quality products and just the right mix that'll have your guests clamoring for more!
Serve the right amount
The amount of cheese per person obviously depends on when the platter is served. If the cheese is served as an aperitif, you should plan for about 100 g per person, while if you serve it at the end of the meal, you will need a bit less, about 70 g per person. If the cheese platter is to be used as a meal, you will need a larger quantity, 250 g per person.
When it comes to the number of cheeses to include, you have two options. If you are a small group, you could serve one whole cheese. Vacherin Mont-d'Or would be a perfect choice with its mild taste and melt-in-your-mouth texture. Simply bake it in the oven in its spruce box and then enjoy it with a spoon. A rare and delicious product that is sure to impress your guests!
If you decide to go with a classic cheese platter, serve a minimum of four cheeses to offer different tastes and textures.
Put quality first
Cheeses are the star of the show, so don't skimp on quality! Visit your local cheese shop or the deli counter of your favourite grocery store to get the best products. We recommend choosing cheeses designated as AOP (Appellation d'origine protégée, or PDO -Protected Designation of Origin in English), which guarantees their authenticity and quality.
Focus on variety
When putting together a cheese board, variety is the name of the game! Make sure to include all types of cheese (soft, semi-hard, hard and extra hard) as well as cheeses made from different milks (cow, sheep and goat). Offering cheeses of different flavour intensities, from mild to full-bodied, will also add to the variety of your tray.
Some tips
Finally, here are a few tips to make your cheese tray a success.
Stack your platter with sure winners, such as Gruyère or Emmentaler. Also include some lactose-free choices in case any of your guests are lactose intolerant.
Position cheeses in order of flavour intensity on the board, from mild to strong.
Show off your culinary presentation skills by decorating your platter with some Tête de Moine rosettes! They are as pretty as they are delicious!
Put the harder cheeses on the edge of the board to make them easier to slice.
Go wild with accompaniments! Add honey, jam, chutney, fresh and dried fruit as well as grilled nuts and olives.
Finally, why not create a cheese tray with only cheeses from Switzerland? You can't go wrong, as they are all of the highest quality! It's a great way to travel to the land of cheese and discover new tastes!