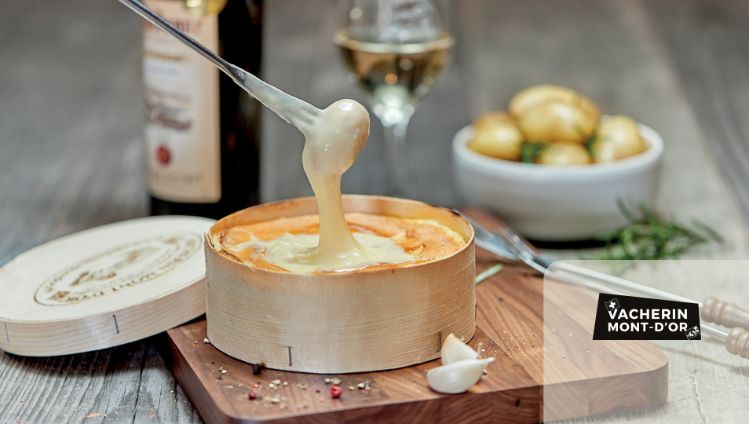 Vacherin Mont-d'Or
Vacherin Mont-d'Or is the distinctive soft Swiss cheese of the Vaud Jura, a land of deep forests and rich pastures. Smooth, soft and utterly irresistible, this cheese gets its delicate, creaminess from the milk of cows fed on local herbs and wildflowers. It is a seasonal delight that can be enjoyed from mid-September to the end of April.
For over 100 years, Vacherin Mont-d'Or cheese has been lovingly produced by hand in artisanal creameries. It is made from superior quality thermized milk, then matured for 21 days in traditional affinage cellars. Today, less than fifteen affineurs produce this cheese specialty.
Vacherin Mont-d'or is easily recognisable by its spruce bark packaging encircled by a spruce strap made from Jura fir, which helps it maintain its shape while providing delicious fine tannins.
Enjoy Vacherin Mont-d'Or at room temperature or heat it up in the oven to eat like a cheese fondue directly out of the box.
30g contain:

| | |
| --- | --- |
| Energy | < 375 kJ (90 kcal) |
| Fat | < 7.0g |
| of which saturates | < 4.5g |
| Carbohydrate | < 0.0g |
| of which sugars | < 0.0g |
| Protein | < 6.0g |
| Salt | < 0.18g |