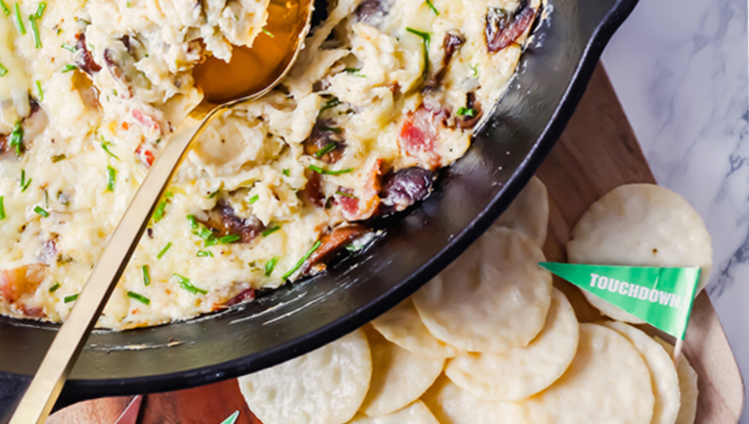 Hot Gruyère, Mushroom & Bacon Dip | Swiss Cheese Recipes
So rich and creamy, this festive dip is a must at any party!
Preparation time
10 minutes
Kitchen Equipment
cast-iron pan or oven-safe skillet 
Ingredients

5

slices of bacon, chopped

8

brown and white mushrooms, mixed and chopped

1/4 teaspoon

pepper

1/4 teaspoon

garlic powder 

1/4 teaspoon

salt 

45 ml

white wine (we recommend Chardonnay)

170 g

cream cheese, at room temperature 

1/2 cup

sour cream 

3 cups

shredded Gruyère (keep 1/2 cup for topping) 

Crackers or baguette for serving 
Preparation
Pre-heat oven to 350°F (180°C).


Heat skillet to medium heat. Once warm, add the bacon and cook 8-10 minutes until it starts to crisp. 


While the bacon is cooking, line a bowl or plate with paper towel. When the bacon is done, remove from the pan to the paper-towel lined bowl or plate. 


Leave 1 tbsp of drippings from the bacon in the skillet. 


Add the mushrooms, pepper, garlic powder and salt to the skillet. Stir and let the mushrooms cook, stirring sparingly until they are nice and browned, about 10 minutes. 


Turn off heat and stir in 1 tbsp chives and cooked bacon. 


In a separate bowl, stir together cream cheese, sour cream and 2 1/2 cups of shredded Gruyère. 


Add cheese mixture to the pan and gently stir to combine everything, smoothing out the top. 


Bake uncovered for 12 minutes, remove from oven and sprinkle 1/2 cup remaining Gruyère cheese on top.  Return pan to oven and bake until cheese is bubbling, approximately 8 minutes.  


Top with chives and serve with your choice of bread or crackers!

Tips for this recipe 

Prep all your ingredients before you get cooking! Then you'll have everything you need to create the recipe at your fingertips.


Cooking mushrooms on medium heat and stirring sparingly allows the mushrooms to release their water and get nice and browned. 


Don't want to include wine in your recipe? You can substitute it with chicken broth.