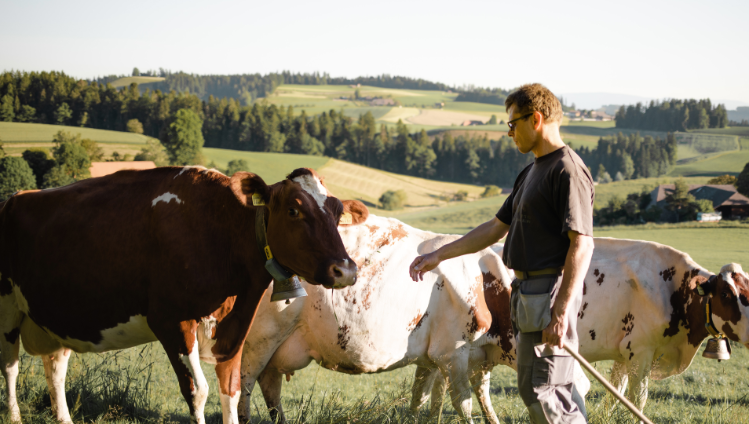 Cheeses from Switzerland: A Sustainable Production by Tradition
Switzerland is a land of sweeping pastures and wide-open spaces where we love to roam and where our dairy cows call home. We have always made it a point of honour to raise our animals in the best possible conditions and to insure their wellbeing. Grazing is the natural way to feed cows. They are free to move around and behave naturally. These living conditions not only improve their well-being, but also their life expectancy and fertility.
Protecting Our Land
In addition to feeding livestock, grazing helps to protect our countryside. Animals fertilize the soil, allowing a wide variety of plants to grow. If left untouched, people would no longer live in the mountainous areas and the meadows would turn into wastelands.
Most of the feed for our dairy cows is produced directly on the farm or in its immediate vicinity, thus reducing transportation and CO2 emissions. An intact environment is therefore not only beneficial to tourists and guests, but is also essential for the health of our cows.
Protecting Our Resources
Responsible production through efficient use of resources is of the utmost importance to our cheesemakers. Many have undergone energy audits to identify opportunities for improvement, such as installing heat recovery systems, recovering waste by-products such as whey, or producing bio-gas. Our producers strive to continually optimize their operations, doing everything possible to improve the well-being of the animals and our planet.
By choosing cheese from Switzerland, consumers show their support for ethical and environmentally-friendly family cheese production and Swiss agriculture. In return, they can be sure of enjoying a healthy, natural and nutrient-rich cheese.