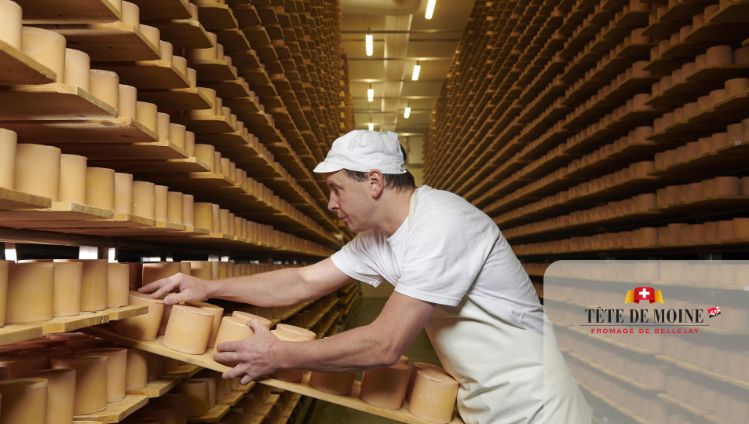 Tête de Moine
Tête de Moine is as much a treat for the eyes as it is for the taste buds thanks to its unique presentation and melt-in-your-mouth texture. Unlike other unpasteurized cheeses, it is not cut but rather shaved into very fine rosettes using a girolle cheese curler. By shaving the cheese, more of its surface comes into contact with air, which not only alters its structure, but allows for its aromatic flavour to fully develop.
Tête de Moine, a gluten-free cheese, [da1] gets its distinctive flavour from natural cow raw milk from the Jura mountains. Cheese connoisseurs recognize Tête de Moine as the crowning glory on a cheeseboard. Its rosettes can also be served as a garnish on soups, salads and appetizers. Rich in minerals and high in proteins, this cheese is as unique as it can be.
In the 12th century, the monks of Bellelay Abbey in the Bernese Jura were already shaving Tête de Moine with a knife set at right angles to the cheese. According to tradition, this Swiss cheese was used by the monks as currency. Today, fewer than ten cheese dairies in the region produce it according to the strict requirements of the AOP specifications.
100g contain:

| | |
| --- | --- |
| Energy | < 1680 kJ (401 kcal) |
| Fat | < 33.0g |
| of which saturates | < 19.83g |
| Carbohydrate | < 1.0g |
| of which sugars | < 0.1g |
| Protein | < 25.0g |
| Salt | < 0.75g |